Kentucky Auto & Home Insurance
Home »
Auto & Home Insurance
HOME AND AUTO INSURANCE
TruePoint Insurance assists Kentucky residents by providing them access to practical and effective insurance solutions. We invite you to call or stop by our Lawrenceburg or Fisherville location to discuss your home and auto insurance needs with us today!
Most of us spend little time thinking about our home insurance. When the wind begins to howl, and it's your house against Mother Nature..... that's about the time when many of us start to think about homeowners insurance.
Insurance is not a commodity, and as the homeowner, we strongly advise that you take a very active role in the insurance process. Coverage varies between one insurance company to another. Some insurance agents will take the liberty of selecting what is covered by your policy and what isn't. While that might save them time, it can do a huge disservice to you.
What's the right price? That is something that only you can determine. But without a thorough understanding of what the policy covers, there is no way that anyone can determine value.
TruePoint's process begins with you. Understanding your unique needs is first and foremost. We tout our customer service skill, which in part means you will have options. We know that price matters, and as a result, you will always see the option with the lowest cost. We don't stop there. We will discuss additional options that are relevant to your situation.
A standard homeowner's policy doesn't provide coverage everything. You may have exposure to earthquake, flood, sinkhole or water backup, and if so additional action will be required. Your policy may need to have protection added for items such as jewelry, guns, or collectibles.
Social media has impacted many aspects of our daily life and insurance is not an exception. Users of social media have increased exposure to libel. It is possible to protect yourself claims of libel or slander exposures via a personal insurance policy. Contact one of our agents for additional information.
INSTANT QUOTES ONLINE FOR KENTUCKY HOMEowners Insurance, Car INSURANCE and packaged policy
You can get real-time quotes online for your home and auto insurance. Quick the links below and fill out the brief online application in less than five minutes and you will have your quote returned instantly.
After reviewing your insurance quotes, simply click "Contact Me" to complete the process.
DON'T FORGET THE DISCOUNTS
How would you like to save 15 to 25% on your insurance? It's as easy as 1,2,3.
1. Buy auto insurance
2. Buy homeowners insurance from the same insurance carrier
3. That is it!
The multi-policy discount on auto and home insurance is in Kentucky terms, a layup. There is nothing difficult about it and it's not new. It has been around for eons. However, consumers having access to online real-time insurance quotes are a relatively new thing. Providing online multi-policy discounts have been noticeably absent in most online quotes. Due to the significant savings, this shortfall eliminated the option of online quoting for many consumers. End your frustration with online insurance by using our instant online quoting tool. Online quoting with TruePoint; Real-time results when you want them.
SHOP INSURANCE PRICES ONLINE WHEN YOU WANT AND WITHOUT AN Insurance AGENT
Virginia, there is a Santa Claus! Quote online using TruePoint's package policy option and start saving! Just click the link below to open our real-time online home and auto quote options.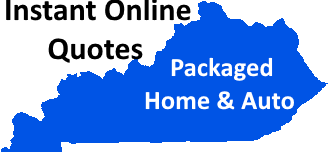 After reviewing your quotes simply click "Contact Me" to complete the process.
TRUEPOINT INSURANCE CAN INSURE ALL YOUR PERSONAL ITEMS
We are more than just home and auto. TruePoint can work with you to find the coverage you need. Look at the list below to find some of the most often used lines of coverage provided by TruePoint Insurance.
Renters Insurance
Landlord Insurance
Sinkhole Insurance
Water Backup Coverage
Medical Equipment Coverage
Jewelry Coverage
Gun Coverage
Collectibles Insurance
Motorcycle Insurance
ATV Insurance
RV Insurance
Fifth Wheel Trailer Insurance
Personal Watercraft Insurance
Event Insurance
Libel and Slander
and much more