GET A QUOTE
Servicing These States
Kentucky
Indiana
Georgia
South Carolina
Auto & Home Insurance
Home »
Auto & Home Insurance
HOME AND AUTO INSURANCE
TruePoint Insurance assists individuals by providing them access to practical and effective insurance solutions. We invite you to call or stop by any of our Kentucky or Georgia locations to discuss your home and auto insurance needs with us today!
When the wind begins to howl, and it's your house against Mother Nature..... that's about the time when many of us start to think about homeowners insurance. Insurance for my home is something that is considered often. Of course I am an insurance agent that is married to an insurance agent and that means we don't have anything better to do than think about insurance.
Insurance is not a commodity, and as the homeowner, we strongly advise that you take a very active role in the insurance process. It is essential that you know what is and isn't protected by your policy. In some case's, agents will take the liberty of selecting these. While that might save both of you some time, it can do a huge disservice to you.
Coverage varies between one insurance company to another. Policies and options will vary based on the type of home you own. Stick built versus modular and manufactured; it's important that the type of home is correcting identified in your insurance application.
Need insurance for an older home? You quickly find that you have fewer options. The same is true for those searching for an insurance quote on farm houses, berm house, or vacant homes. It you are working with an independent insurance agent, like TruePoint, your agent should be providing you access to a large number of insurance companies. But for those of you that find yourself struggling with a hard to insure house, it's probably wise to review multiple agency options.
How much will it cost to insure my home?
The cost to insure a home varies based on several variables. While this may seem mundane, if you're interested in coverage and cost you should definitely consider the following:
ZIP Code - Where you live impacts the potential for loss and can result in higher or lower homeowner's premiums.
Age of Home - Older homers may have Increased risk associated with deterioration, older wiring, leaking roofs and more. The cost to replace these homes can also be prohibitive. The cost associated with replacing trim work, stair ways and other features often adds significantly to cost of replacing these homes.
Type of Home - Insurance companies prefer stick built homes and in most cases it's evident in their Homeowners quotes. While some carriers struggle to think outside the box, we value the fact that risks associated with wind are significantly less if you own a berm house. We also understand that modular homes are build in a more favorable environment. Indoor construction eliminates many negatives caused by the environment. Have you seen a concrete house? We have and we think they're a great insurance exposure. If you happen to own on of these types of homes, then you already know. It's tough to find insurance at a price that is compatible to the risk. Stop searching and start calling TruePoint for your Homeowners Insurance needs. We've done the leg work for you and in many cases, we have already have the best insurance option for your needs.
Roof age and condition - Replacing roofs has become a significant expense which insurance companies cannot continue to bear. In recent years, underwriting requirements have been altered in hopes of reducing these losses. One way or another the industry will resolve this issue. But in the meantime pay attention to how your unique situation is impacted.
Insurance Score - Almost all insurance companies today calculate and utilize an insurance score. While this is not a credit score it is very similar. Each company has their own score method but most use a series of financial debt.
What's the right price? That is something that only you can determine. But without a thorough understanding of what the policy covers, there is no way that anyone can determine value.
How can I find the best insurance agent for me?
Ranking insurance agents is impossible. Sure people do, but anyone offering a list of the best insurance agents or agencies is preposterous. There are too many factors that impact the unique consumer needs. Below are just a few of the things one might consider when choosing an insurance professional to work with.
Location - Do you expect your insurance agent to show up at your home following a loss? I do! Even if your touted as the best Tennessee insurance agent, I am not interested. I'm looking for the best Georgia Insurance Agent for me. I'm not interested in the best insurance agent for Kentucky contractors, or the top Travelers agent. My family and co-workers are no different. For those living in the Bluegrass State or Georgia's Coastal Empire, you need an Insurance Agent that not only knows you market, but also deals with the same insurance issues that you face. Even more important, you need an insurance agent that is close enough to service your needs in a timely manner.
Insurance Options - Each agency has access to different markets. Captive Agents have only one market, while even the smallest independent insurance agency has a handful or more. While Best Insurance Inc might be the Top in Indiana, that doesn't mean that it is competitive in Kentucky. Another Insurance company may be great in Atlanta, Georgia, but may fall short of the mark when asked to provide insurance for the coastal residents of Savannah, Georgia.
TruePoint's process begins with you.
Understanding your unique needs is first and foremost. We tout our customer service skill, which in part means you will have options. We know that price matters, and as a result, you will always see the option with the lowest cost. We don't stop there. We will discuss additional options that are relevant to your situation.
A standard homeowner's policy doesn't provide coverage for everything. You may have exposure to earthquake, flood, sinkhole or water backup, and if so additional action will be required. Your policy may need to have protection added for items such as jewelry, guns, or collectibles.
Social media has impacted many aspects of our daily life and insurance is not an exception. Users of social media have increased exposure to libel. It is possible to protect yourself claims of libel or slander exposures via a personal insurance policy. Contact one of our agents for additional information.
Your auto insurance shouldn't have anything to do with an gent. Your insurance is about your needs, not someone else. During your initial quote process you will be asked a number of questions. Many of those will be to help the insurance company determine how risky you are. They will calculate your premium for your car insurance with questions like:
Personal Information

Name / Address / Age or Date of Birth / Drivers License Number / Other Household Drivers

Vehicle Information
Driving History

Accidents / Traffic Violations

Notification the certain financial information may be used in calculating your auto insurance premium
There should also be a series of questions aimed your needs and wishes. Sometimes I hear people ask, how good is my car insurance? No one should ever have to ask that question. When you are not involved in the process it means your interest are not being considered. You need to actively participate in the process and you will know that you are when you're asked questions like:
What limits would you like or what liability limits would you prefer? If you are being automatically assigned the state minimum auto insurance limits, you should run......read more to find out why
What deductible? In today's market a $1,000 deductible is by far the most common. In most cases, it is also the most logical based on how it impacts your auto premium. But in the end this is your auto policy. Ask questions.
Policy Term: Some auto insurance carriers only offer 6 month policies. While others will offer both 6 and 12 month policies. How important is this? It's probably not a deal breaker. The major advantage two a twelve month policy is that it protects the policy holders premium. When insurance companies are raising car insurance premiums you will be glad that you've locked in for a full year. If you are involved in an accident or receive a serious traffic violation you might also benefit from the longer term.
How much will my car insurance cost?
Your car insurance is a function of many factors. If your a young person, be grateful and enjoy your youth. As far as having a lot of ideals that will help you save on auto insurance there aren't many. Patience young grasshopper, and drive safely.
Age is a huge factor. Gender too, If you are a young male, even more.
Where you live is an issue. Some may have trouble with that, but let me ask. How often do you drive in New York City? Can an insurance company charge the same premium for drivers in NYC that they do for Louisville, Kentucky or Savannah, Georgia drivers?
Driving History has a major impact on the cost of car insurance. In some cases it may decide whether you're even driving at all.
INSTANT QUOTES ONLINE FOR Georgia and KENTUCKY HOMEowners Insurance, Car INSURANCE and packaged policies
You can get real-time quotes online for your home and auto insurance. Quick the links below and fill out the brief online application in less than five minutes and you will have your quote returned instantly.
After reviewing your insurance quotes, simply click "Contact Me" to complete the process.
DON'T FORGET THE DISCOUNTS
How would you like to save 15 to 25% on your insurance? It's as easy as 1,2,3.
1. Buy auto insurance
2. Buy homeowners insurance from the same insurance carrier
3. That is it!
The multi-policy discount on auto and home insurance is in Kentucky terms, a layup. There is nothing difficult about it and it's not new. It has been around for eons. However, consumers having access to online real-time insurance quotes are a relatively new thing. Providing online multi-policy discounts have been noticeably absent in most online quotes. Due to the significant savings, this shortfall eliminated the option of online quoting for many consumers. End your frustration with online insurance by using our instant online quoting tool. Online quoting with TruePoint; Real-time results when you want them.
SHOP INSURANCE PRICES ONLINE WHEN YOU WANT AND WITHOUT AN Insurance AGENT
Virginia, there is a Santa Claus! Quote online using TruePoint's package policy option and start saving! Just click the link below to open our real-time online home and auto quote options.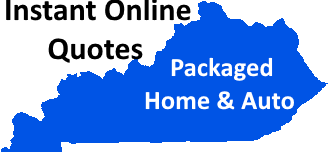 After reviewing your quotes simply click "Contact Me" to complete the process.
TRUEPOINT INSURANCE CAN INSURE ALL YOUR PERSONAL ITEMS
We are more than just home and auto. TruePoint can work with you to find the coverage you need. Look at the list below to find some of the most often used lines of coverage provided by TruePoint Insurance.
Water Backup Coverage
Medical Equipment Coverage
Jewelry Coverage
Collectibles Insurance
ATV Insurance
Fifth Wheel Trailer Insurance
Event Insurance
and much more