Making sure Kentucky has Happy Campers starts with Happy Campground Owners. TruePoint is proud to work with Kentucky's Campground owners to reduce and effectively manage risk. In the end that means not only a safer experience for campers, but in the long run campgrounds that more effectively manage their risk can in turn reduce the cost to the end users.
TruePoint's role is to offer coverages that are customized for the unique risk that campgrounds are exposed to. Exposures that range from boat slips or docks, to swimming pools, to fireworks displays, groceries, laundries, bath areas and possibly Trailer Spotting. Offering coverages is not enough, our goal is to always be transparent in the sharing of information with the ultimate goal of providing campground owners a full arsenal to manage their risk.
We offer access to coverages that have been approved by the KOA Owners Association. In addition to coverages for the risk mentioned above we can also accom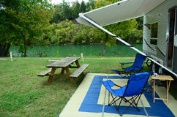 modate and provide coverage for sewer backup, watercraft liability, camping equipment, fire rings, LP gas sales, restaurants and bars, commercial kitchens, various sporting activities and special event coverages. We can offer coverage to seasonal facilities as well as those that provide year round camping.
A few requirements:
All swimming areas must be fenced and gated, signs posted requiring adult supervision at all times and no diving signs conspicuously postedRental power vehicles, whether for land or water use must adhere to standards that vary based on insurance carrier.Certain powered vehicles such as ATV's, Dirt Bikes, Go-Karts and Ultralights are in most cases not allowed.The bottom-line:SPEED KILLSSpeed limit signs required for all private roadsRental units (RV, Cabins, Etc.) are subject to standards based on age and property condition that varies between insurance options
Some no-no's include:
No Trampolines
Fireworks limitations do apply to some options
No Diving boards, water slides, or rope swings for pool or other water source use
No Hang Glider or sailplane rentals
TruePoint Insurance Group, LLC
6287 Taylorsville Rd.
Fisherville, KY 40023
(888) 706-5423
TruePoint Insurance Group, LLC is not licensed to practice law, nor can it provide legal counsel. This summary is not intended as a legal opinion. We cannot warrant that the opinions and representations provided in this summary are accurate. TruePoint Insurance Group, LLC has provided this summary of the Virginia Graeme Baker Act for your awareness. The summary may or may not identify your requirements as a pool or spa owner. If you own a pool or spa you are advised by TruePoint Insurance Group, LLC to refer your specific situation to legal counsel.