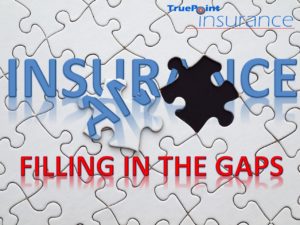 If your business has never had to turn in an insurance claim many will tell you to consider yourself lucky. Others may tell you to give yourself a pat on the back. At TruePoint, we will tell you that it is highly likely that both are true.
No one enjoys turning in an insurance claim. Once we get past the fact that no one is injured, an explosion of thoughts race through our minds. How much is this going to cost? What's my deductible? How much will my insurance premium go up? Will I get canceled?
The one thought that is seldom considered is, "will my insurance company deny the claim?" Most small businesses seldom consider needing anything more than a General Liability policy. If you are a contractor that has had a past claim denied, then you most likely know where we are headed.
General Liability Insurance or GL covers a boatload. Even if you are not liable, it will pay claims made against you by a third party. Most legal fees, settlement costs, damages to property, bodily injury and more are covered. Your general liability policy should also pay claims related to slander or libel. It will also pay for some construction-related claims as long as they fall under the completed products coverage.
Most claims not covered by the general liability coverage policy are logical. First off we can exclude every claim not related to damages that we've caused to others. Buildings and other property must be covered by a property form. Some liability related losses are not covered by the commercial general liability (CGL) policy. The following are some of the most obvious examples:
•      Property Damage and Body Injury resulting while operating a vehicle Commercial Auto         Policy
•      Injuries to employees while at work Workers Compensation
•      Liability coverage for Doctors, Lawyers, etc. Professional Liability
Professional liability insurance is sometimes referred to as errors and omissions insurance or E&O. Warning to the wise, take care to review all policies. Professional Liability and Errors & Omission coverages differ. While E&O is more applicable to most contractors, it's crucial that you make sure that the product you are buying provides the coverages you need.
Why is it that certain professions need E&O insurance and other need General Liability?
First of all, I don't think this is a simple as flipping a switch. Up for GL and down for E&O. The two are entirely different and independent coverages, and many businesses are apt to need both to be adequately insured.
We mentioned earlier that General Liability insurance doesn't cover certain losses. We already identified a couple of the more obvious types. You should also be aware that negligence, failure to offer a service, failure to act in good faith, misrepresentation are a few additional examples of exposures not covered by a CGL policy.
Do the gaps in General Liability coverages mean that contractors and other construction-related industries need Errors and Omission coverage? Possibly, each case is different. But if you're not considering it, then you may need to find an agent that will work through the issues and provide enough insight into the question for you to make the right decision.
Most contractors have enough exposure that they could benefit by adding E&O coverage to their existing policy. The approach TruePoint takes in exploring whether Errors and Omissions should be added is no different than the way we treat any other coverage that is required. We start defining the types of risk that are being considered. In the case of contractors E&O we would ask questions similar to those below:
1.      Does your General Liability insurance protect you against claims for faulty work?
o      You're correct if you answered NO! Advance to #2.
o      General Liability does not provide coverage for defective work. Call (502) 410-5089 or go to www.insuringky.com to learn more if you answered question 1 in the affirmative.
2.      Does your General Liability cover your work and products?
o      Again you are correct if you answered NO! Advance to #3.
o      General Liability does not cover your work or products. If you answered YES visit our site www.insuringky.com to learn more about TruePoint Insurance.
Contractors can have significant gaps in coverage that can be eliminated or reduced by adding Contractors' E&O. The next step that we advise is to determine your exposure. We begin by developing a risk profile which at a very basic level answers the following:
•      your potential loss exposure (both a median or average potential loss as well as a max loss)
•      the expected frequency of the type loss being considered
The final step is to help you decide if the cost of the added coverage is reasonable relative to the reduced exposure:
•      We determine the cost to transfer the risk (in this case, how much will you pay for the E&O Policy)
•      And we then compare the cost to insure versus the exposures identified in the risk profile.
TruePoint works with commercial accounts in Kentucky and Southern Indiana to help them better understand their business insurance needs. Our focus is on how we can help you to most effectively develop and execute a strategy for your commercial insurance needs.