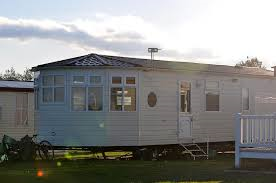 Mobile homes are vulnerable to serious damage from winds and storms since they are smaller and much lighter than stick-built or factory-built homes. It is important to use reinforcements to make them more stable; such as tie-downs.
Tiedowns come in two basic types; over-the-top tie-downs and frame anchors. Over-the-top tie-downs are straps that resist lifting forces and minimize tip-overs. They are usually used with single-wide mobile homes. Strapping is placed with over the top of the roof or over the structure鈥檚 sides. Frame anchors are reinforcements that resist lateral forces, making a structureless vulnerable to sliding off supports
In order to stabilize a structure, the tie-downs must be properly anchored to a foundation, slab or the ground. Anchor types include the following: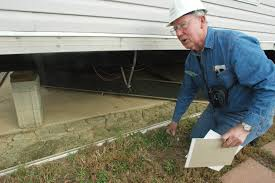 路 Hard Rock Anchor
路 Concrete Slab Anchor
路 Cross Drive Rock Anchor
路 Drive or Barb Anchor
路 Auger Anchor
路 Disc Anchors
Straps and anchors have to be used properly and they have to meet various standards such as聽placement聽of anchors, anchor fittings, method of installation and ground/site conditions. When anchored to the ground, it may be necessary to make test its suitability as an anchor. If piers and footings are used they must be able to meet various requirements regarding weight support, dimensions, material quality, pier placement, and other areas. Straps and anchors also have to meet requirements in order to be depended on to withstand the stresses winds and other forces.
Use of tie-downs varies by state, state regulations and soil type. Local building inspectors and mobile and manufactured home builder associations are excellent sources for anchoring and tiedown requirement information.聽Use of that valuable information, along with insurance, is聽great methods for fully protecting a mobile home.
---
COPYRIGHT: Insurance Publishing Plus, Inc. 2017
All rights reserved. Production or distribution, whether in whole or in part, in any form of media or language; and no matter what country, state or territory, is expressly forbidden without written consent of Insurance Publishing Plus, Inc.