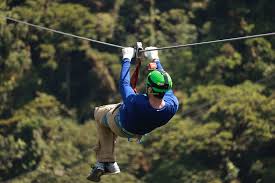 Ziplines are a newer and wildly popular attraction. They are known by various names such as:
zip wires
rope slides
aerial runways
flying fox
death slides
They consist of a steel cable (or, increasingly rarely, rope), mounted at an incline between two points. They are traversed by a person attached to the line by a harness and pulley.
Ziplines are quite old, originally developed as a way to more easily access remote areas, such as mountain terrain, forests or as a way to cross rivers and as an aspect of climber training. They are more recently used for entertainment such at adventure camps, hiking areas in parks, amusement parks, festivals, fundraisers, in team-building exercises and, in current development, at private residences.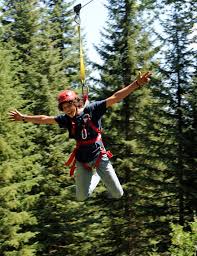 Ziplines are now so popular; they are sold in kit form for private use. A standard kit consists of a cable, pulley, installation kits (bolts, eyebolts, swivels, cable tensioners, turnbuckles, cable clamps, braking device, cable slings etc), handlebars, lanyards or harnesses, and other accessories. Some kits include tools such as cable grabs and cutters.
While accidents involving zip lines are low, in comparison to their use, the consequences of accidents are very high, so safe operation is incredibly important. Much of the safety has to do with ziplines being installed professionally and operated by trained personnel. The residential use of ziplines is likely to result in more accidents because of the absence of those two, critical factors.
It is important that ziplines have safety features that match the installation and use. Residential ziplines are likely to consist of short runs and be close to the ground, still it is important to make sure that there is control over the speed, that the equipment is regularly checked, that the use is properly supervised, that there is proper clearance so that hands, clothing or hair don't become entangled and that the launch and stopping points are properly supported. Items that help make zipline use safer is the use of a shock-absorbing landing zone, backup lanyards or harnesses, goggles, thick leather gloves (for emergency braking), helmets, masks, and knee pads.
Of course, it is supremely important that the zipline use the right type of cable, have a proper incline, be properly tensioned and that the right attachment and anchor points are used and that the space for the installation is adequate. The installation site must be absolutely free of obstacles, so site preparation is often necessary. Maintenance is very important, particularly with regard to line wear and tension and zipline owners must inspect their installation and gear carefully and regularly. Safe procedures and supervision is also critical.
You may also find it helpful to see our article titled, "Who Cares about Attractive Nuisances" for related information.
---
COPYRIGHT: Insurance Publishing Plus, Inc. 2015
All rights reserved. Production or distribution, whether in whole or in part, in any form of media or language; and no matter what country, state or territory, is expressly forbidden without written consent of Insurance Publishing Plus, Inc.